By CHAN, Chung-Shing, Department of Geography and Resource Management, The Chinese University of Hong Kong
Acknowledgement
This research project (Project Number: 14607919) is funded by the General Research Fund (GRF) administered by the Research Grants Council (RGC) of the Government of the Hong Kong Special Administrative Region.
The research findings on this project are available in this paper: Chan, C. S., Shek, K. F., & Agapito, D. (2022). The sensory experience of visitors with hearing impairment in Hong Kong Wetland Park based on spatial sensory mapping and self-reported textual analysis. Landscape and Urban Planning, 226, 104491.
______________
Universal accessibility and barrier-free experience of public spaces such as parks is at the frontier of social sustainability and disability research. Such accessible and quality public spaces are characterized by enjoyable sensory stimuli and facilitating factors determining the process of sensory experience creation. Among visitors with sensory impairment like hearing difficulty, an understanding and a comparison of this sensation process with that of general visitors is largely absent.
 The author conducted a study to investigate the multi-sensory experience of visitors with hearing impairment (HI) in Hong Kong Wetland Park through spatial mapping of their self-reported positive and negative sensory stimuli, and expression of the overall experience. As reported by the government, there were over 155,000 individuals with HI, making it one of the largest disabled populations in Hong Kong whose disability is not mobility-related. Using the Government's updated definition to only include those with hearing aid or other equipment, the number of persons with hearing difficulty would reduce to 47,900 persons. For the Wetland Park, the annual numbers of visitors with disabilities who purchase concessionary tickets is around 4,000-5,000. The current research selected the Wetland Park as the study site because the park boasts high availability of diversified sensory stimuli features and facility provision. The park also offers a great variety of natural and manmade features, services, settings, and activities, offering visitors diversified experiences and sensory-based potential.
A series of investigation visits for a total of 104 sampled voluntary HI participants were set up, applying participant observation and a modified Sensory Experience Elicitation Protocol (SEEP) instrument in form of self-administered questionnaire, to extract sensory information. The results clearly show a geographical distribution of sensory stimuli and their spatial pattern of magnitude across different zones and features in the Wetland Park (Figures 1a and 1b). Natural features provide more than visual stimuli to the HI park visitors. The Wetland Park shows a combination of stimuli although visual, auditory and tactile elements are more prominent. Tactile experience of the HI participants is relatively rich compared to other non-visual senses.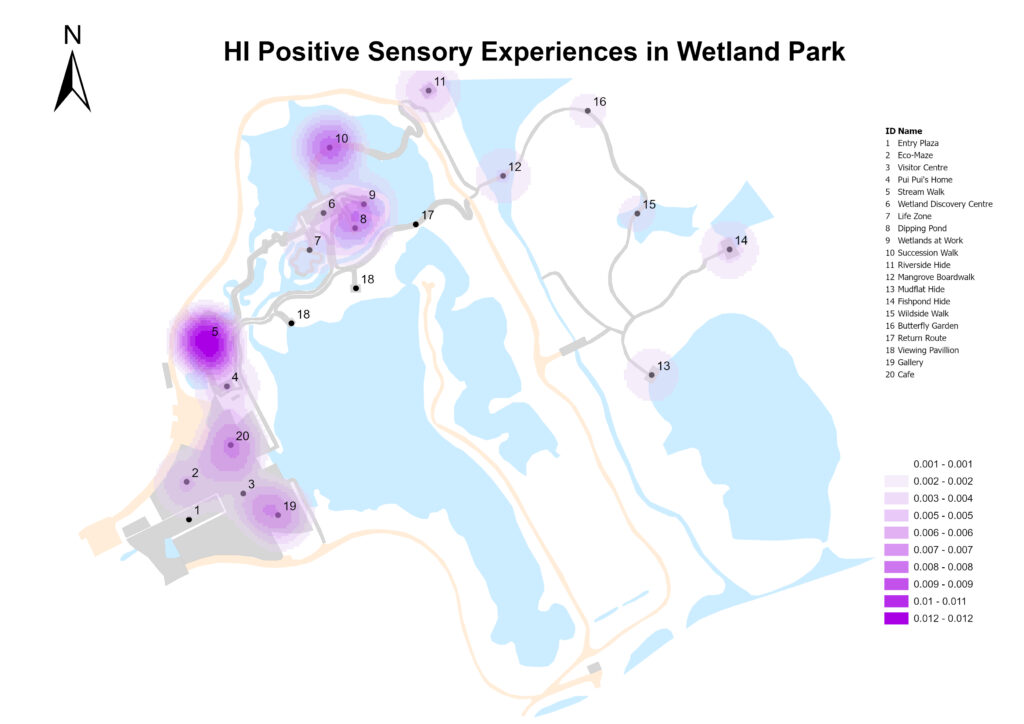 Figures 1a and 1b: Positive and negative overall sensory experiences in the Wetland Park
Theoretically, there has been a lack of research focusing on characterizing the pattern of sensory experience by people with hearing impairment. This study therefore combines sensory mapping and textual analysis of HI participants' experiences and contributes to the understanding of sensory impairment and experience in a multi-functional landscape of a public park. As sensory impairment is a relatively untapped area of tourism research, results of this study enrich the domains of knowledge and theoretical development of accessibility in recreation and tourism, sensory experience and landscape assessment. The present research also extends the concepts of multiple sensory stimuli and the broader sensation process from the fields of environmental psychology and consumer behaviour to the approach of spatial analysis of visitor sensory experience.